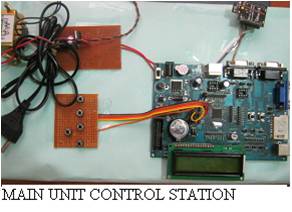 ABSTRACT:
This paper presents user-centric energy efficient lighting control architecture for street lamps. The system utilizes ZigBee technology to implement wireless mesh network of street lamps. The coordinator, serving as gateway between ZigBee nodes and internet, relays information of interests to remote user. The proposed system comprises of LED lamps, gateway node, and management software that offer remote monitoring and control of the lamps. Each LED lamp is integrated with ZigBee node, sensors and the Controller module along with ballast actuator. To realize effectiveness of proposed system, prototype has been installed inside University.
PURPOSE:
The main purpose of this project is to provide controlling on Outdoor lighting systems like incandescent, fluorescent and LED lamps with the help of the zigbee technology.
PROJECT DESCRIPTION:
Nowadays, human has become too busy and he is unable to find time even to switch the lights wherever not necessary. This can be seen more effectively in the case of street lights. The present system is like, the street lights will be switched on in the evening before the sun sets and they are switched off the next day morning after there is sufficient light on the roads. But the actual timings for these street lights to be switched on are when there is absolute darkness. With this, the power will be wasted up to some extent. This project gives the best solution for electrical power wastage. Also the manual operation of the lighting system is completely eliminated. The X-bee module which we are going to use for this project is 2.4 GHz. this module is connected to the dedicated serial communication pins of the microcontroller which are RxD and TxD. This project is very useful for commercial sign boards, advertising boards, street lights for automation lighting system. This system switches on the lights only in darkness. As it works with LDR sensor, no programming of timings and battery back-up is required. This is a simple, fit and forget system. To one section devices are connected to controller and other section switches are present which is used select the device to turn them ON/OFF and also this sections provide us status of the devices connected to the controller. This system is used for monitoring and controlling of the devices which are present at remote locations.
POWER SUPPLY:
BLOCK DIAGRAM:
OUT DOOR SECTION: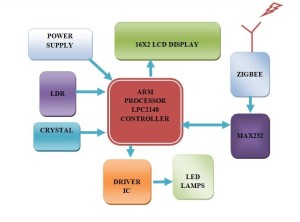 CONTROL SECTION: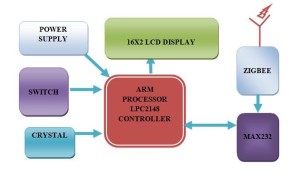 OUTPUT WINDOW:
TECHNOLOGY:
ZIGBEE:
Zigbee is new wireless technology guided by IEEE 802.15.4 Personal Area Network standard. It is primarily designed for the wide range controlling applications and to replace the existing non-standard technologies. It currently operates in 868 MHz band at a data rate of 20Kbps in Europe, 914MHz band at 40kbps in USA, and the 2.4GHz ISM bands Worldwide at a maximum data-rate of 250kbps. It is used to verify whether user's truncation is possible or not. One of the main advantages of this ZIGBEE communication is that it provides a noise free communication, the amount of noise added in this type of communication is very less compared to the other wireless communications.
SOFTWARE AND HARDWARE TOOLS:
SOFTWARE TOOLS:
KEILUV4 IDE TOOL
ISP PROGRAMER
EMBEDDED C PROGRAMMING
FLASHMAGIC
HARDWARE TOOLS:
ARM7TDMI LPC2148
MAX232
LCD DISPLAY
POWER SUPPLY
LED LAMPS
SWITCH
RESULT:
ZigBee based energy efficient outdoor lighting control system To efficiently manage the power outlets and the lights.