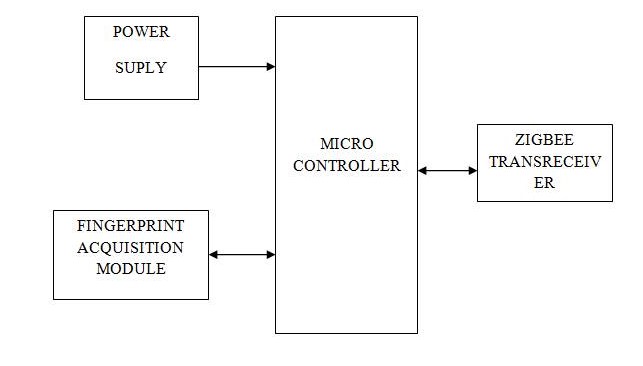 AIM:
The main aim of this project is to implement the wireless finger print attendance system by using Zigbee technology.
PURPOSE:
The main purpose of this project is used to develop the low cost and high performance wireless finger print attendance system by using Zigbee Technology.
BLOCK DIAGRAM:
TRANSMITTER SECTION: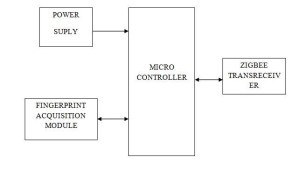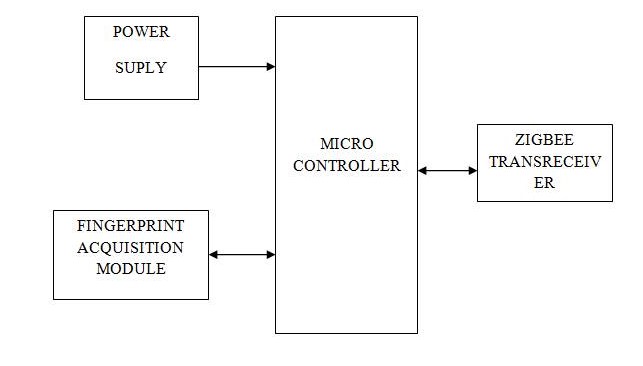 RECEIVER SECTION:
POWER SUPPLY:

DESCRIPTION:
By the disadvantages of wired fingerprint attendance system,   a design method of wireless fingerprint attendance system based on ZigBee technology is developed. This system includes the fingerprint acquisition module, ZigBee Transmission and Receiving module, microcontroller, Attendance management workstation (PC). The finger print acquisition module is used to collect the fingerprints this information is Processed within the microcontroller and transmitted by the Zigbee transmitter. At receiving section the information is received by using Zigbee receiver it send the fingerprint image to the microcontroller if the image is matched attendance management workstation is used to realize fingerprint extraction and matching in order to realize attendance function.
This system contains Zigbee wireless technology and attendance management. In Zigbee transmission mode, after the transmission equipment sends a data frame every time. If the receiving device accurately receives the frame. It will return a conformation frame. The transmission equipment will continue sending the data after the conformation frame is received it shows attendance is successful. Otherwise the transmission equipment resends the data frame. In this system, transmission data is image.
TECHNOLOGY:
ZIGBEE:
Zigbee is new wireless technology guided by IEEE 802.15.4 Personal Area Network standard. It is primarily designed for the wide range controlling applications and to replace the existing non-standard technologies. It currently operates in 868 MHz band at a data rate of 20Kbps in Europe, 914MHz band at 40kbps in USA, and the 2.4GHz ISM bands Worldwide at a maximum data-rate of 250kbps. It is used to verify whether user's truncation is possible or not. One of the main advantages of this ZIGBEE communication is that it provides a noise free communication, the amount of noise added in this type of communication is very less compared to the other wireless communications.
HARDWARE:

Zigbee
Micro Controllers
fingerprint acquisition module
Attendance management workstation(PC)
SOFTWARE:

Embedded C
Keil uvision
Express PCB
Flash Magic
 RESULT:
The low cost and high efficient wireless fingerprint attendance system based on ZigBee technology is developed.