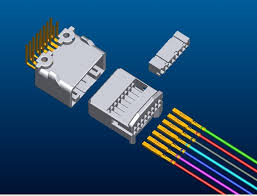 As the name indicates, these kinds of connectors are used to connect a wire or a bunch of wires to a circuit board. There are wide verities of wire-to-board connectors available. We will be discussing about the PCB Terminal Block, FFC connectors, IDC connectors and RMC connectors
PCB TERMINAL BLOCK
PCB Terminal block is used to terminate the wire at the PCB. These connectors are used only for supply power to or from the PCB. They are little used for transferring signals.
PCB Terminal Block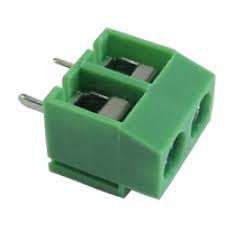 One side of the PCB Terminal Block has slots available to insert wire into it and tighten by screws ensuring proper contact. A single slot is normally used for connecting only a single wire, but one can easily connect multiple wires at also. A PCB Terminal Block has at least two wire slots, and there are PCB Terminal Blocks available with more than 10 connection slots.
Wires connected into PCB Terminal Block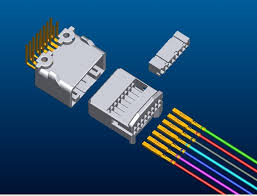 The above image shows how wires can be connected to the PCB Terminal Block. A small part of the insulation of the wire just enough to be fit into the slot is stripped out and can be inserted into the connector. The wire is then safely fixed inside it by tighten down the screw. Each wire has its entry slot into the connector.
The PCB Terminal Block as its name indicates finds its application in almost all kind of PCBs including microcontroller boards.
Sample specification:
Current rating ——————— 15 Amperes
Voltage rating ——————— 300 V