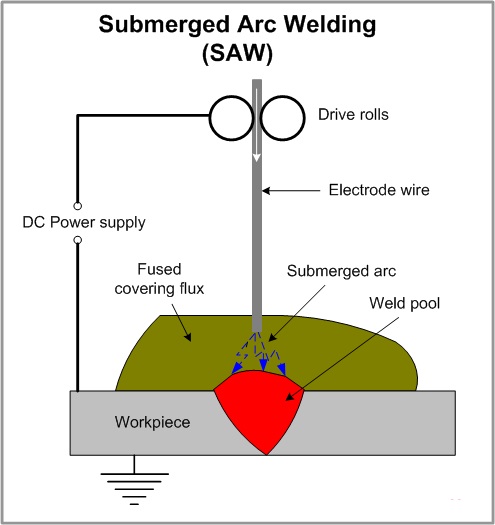 Submerged Arc Welding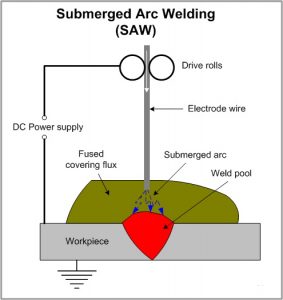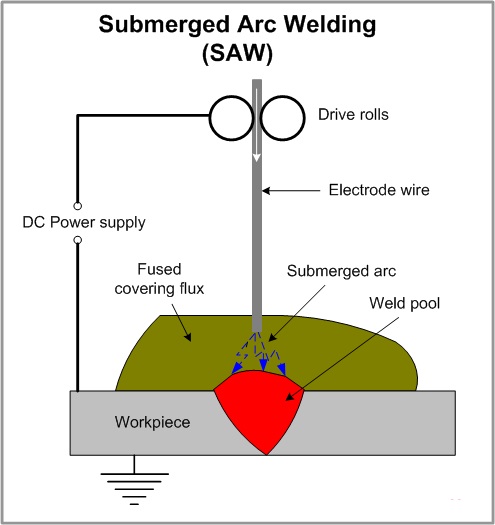 Schematic submerged arc welding process is shown in Fig. In this welding process, a consumable bare electrode is used in combination with a flux feeder tube. The arc, end of the bare electrode and molten pool remain completely submerged under blanket of granular flux.
The feed of electrode and tube is automatic and the welding is homogeneous in structure. No pressure is applied for welding purposes. This process is used for welding low carbon steel, bronze, nickel and other non-ferrous materials.
Submerged arc welding can be employed for an extremely wide range of work pieces. The method is suitable for butt welding and fillet welding of such applications as structural members in ships, manufacture of pressure vessels, bridge beams, massive water pipes, thin sheet shells and so on. In addition, the process is particularly effective for cladding applications, e.g. when surfacing mild carbon steel with stainless steel materials, or when depositing hard materials on a softer substrate. Submerged arc welding is generally performed indoors in fabrication shops. Working outdoors always carries the risk of undesirable levels of moisture finding their way into the joint or flux and resulting in porosity of the weld. If submerged arc welding must be carried out outdoors, special precautions should be taken, such as the construction of a roof over the work area. Submerged arc welding is most efficient if the joint can be filled with as few passes as possible. If, when working in mild steel, the work piece can be turned over, and if the material is not too thick, a bead is often applied from each side of the joint. If the basic material is alloyed steel, a multi-pass procedure is normally necessary. Admittedly, this results in an increase in process costs, but for many work pieces the economics of the process are still sufficiently attractive for submerged arc welding to be more cost effective than, say, manual welding using coated electrodes. In addition, there will be fewer weld defects with automatic welding. Source A Textbook of Basic Manufacturing Processes and Workshop Technology by Rajender Singh.