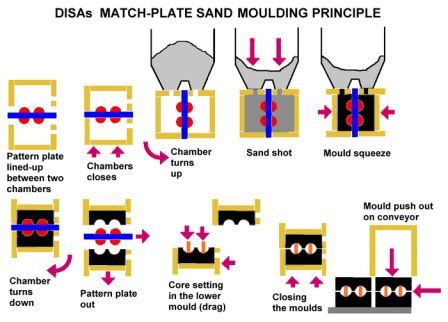 STEPS INVOLVED IN MAKING A SAND MOLD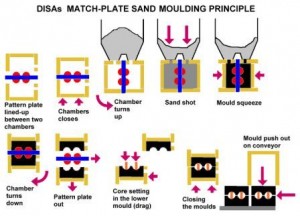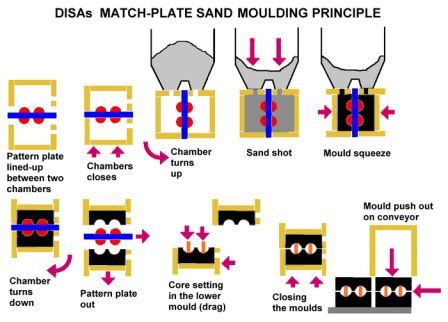 1. Initially a suitable size of molding box for creating suitable wall thickness is selected for a two piece pattern. Sufficient care should also be taken in such that sense that the molding box must adjust mold cavity, riser and the gating system (sprue, runner and gates etc.).
2. Next, place the drag portion of the pattern with the parting surface down on the bottom (ram-up) board.
3. The facing sand is then sprinkled carefully all around the pattern so that the pattern does not stick with molding sand during withdrawn of the pattern.
4. The drag is then filled with loose prepared molding sand and ramming of the molding sand is done uniformly in the molding box around the pattern. Fill the molding sand once again and then perform ramming. Repeat the process three four times,
5. The excess amount of sand is then removed using strike off bar to bring molding sand at the same level of the molding flask height to completes the drag.
6. The drag is then rolled over and the parting sand is sprinkled over on the top of the drag.
7. Now the cope pattern is placed on the drag pattern and alignment is done using dowel pins.
8. Then cope (flask) is placed over the rammed drag and the parting sand is sprinkled all around the cope pattern.
9. Sprue and riser pins are placed in vertically position at suitable locations using support of molding sand. It will help to form suitable sized cavities for pouring molten metal etc.
10. The gaggers in the cope are set at suitable locations if necessary. They should not be located too close to the pattern or mold cavity otherwise they may chill the casting and fill the cope with molding sand and ram uniformly.
11. Strike off the excess sand from the top of the cope.
12. Remove sprue and riser pins and create vent holes in the cope with a vent wire. The basic purpose of vent creating vent holes in cope is to permit the escape of gases generated during pouring and solidification of the casting.
13. Sprinkle parting sand over the top of the cope surface and roll over the cope on the bottom board.
14. Rap and remove both the cope and drag patterns and repair the mold suitably if needed and dressing is applied.
15. The gate is then cut connecting the lower base of sprue basin with runner and then the mold cavity.
16. Apply mold coating with a swab and bake the mold in case of a dry sand mold.
17. Set the cores in the mold, if needed and close the mold by inverting cope over drag.
18. The cope is then clamped with drag and the mold is ready for pouring. Copied from A Textbook of a Basic Manufacturing Processes and Workshop Technology by Rajender Singh.