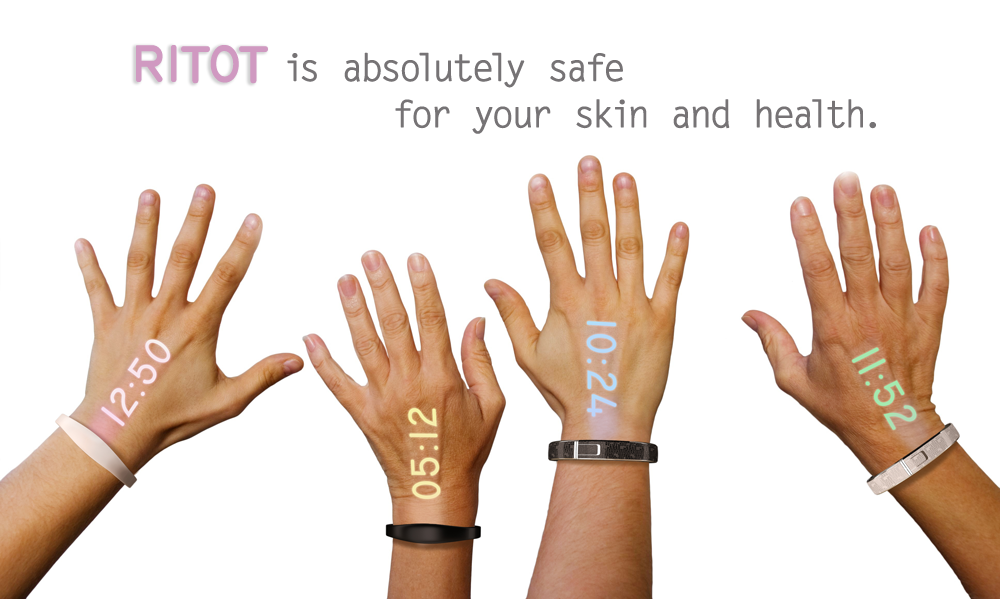 Inspired by future technologies we wanted to create a completely different, original timepiece.
Meet Ritot – the first projection watch
    It's been a long time since mankind has stopped peering into the sky at the sun to calculate the time. Clocks were invented for this purpose. The first clock was created thousands of years ago. There were various types of clock, including sundial, clepsydra, hourglass and others.
Since then, the evolution of clock has continued and brought to us the first wristwatch. Every year there emerge dozens of new models of wirstwatch, but the operating principle has not changed.
We live in a new progressive millennium; everything around us progresses and develops. In our opinion, clock design should be both technically innovative and fashionable. Watches demonstrating that humanity does not stand still. These are the watches we bring into life.
On the Internet there were talks about a new generation of watches; however, they were just mere talks and nothing specific. Here we offer you the opportunity to see them and become a piece of history by supporting development of Ritot; be the one that boosts the tech world evolution. We are talking about the generation of wristwatches, which project the dial onto your wrist.
Notifications
Ritot will help you to stay on top of things with vibrating notifications, messages and alerts. Dismiss a notification with a shake of your wrist.
Incoming Caller ID
Text messages
Reminders, meetings
Emails
Calendar Alerts
Facebook Messages
Twitter
Weather Alerts
Silent vibrating alarm and timer
Notifications for any other Apps
You can set notifications in the special Ritot App for your phone. All notifications are easy to set, turn on and off.
Features
•  Ritot has special projection technology which allows using them at day and night.
•  Due to high quality materials and technical components, Ritot has extended operation life.
•  Our projection technology is absolutely safe for your skin and health.
•  You may change the projection color in one click. There are more than 20 colors available.
•  There are two ways to activate projection: you may touch the button or just shake your hand.
•  The projection disappears automatically in 10 seconds.
•  Waterproof.
•  Size for any hand.
•  Unisex design.
•  24 or 12 hour time display mode.
•  Projection view is changeable for left and right hand.
-the model's name speaks for itself. This is no big wristband-like watch. It will look great in combination with your sporty style. The watch case is made of plastic with rubber inserts for a comfortable wear on the arm. The watch strap is fully made ​​of rubber with a convenient padlock. Currently the watch is available in black, white, red, green, blue and yellow.
Unique design
We have been working on Ritot for 6 months. During this time we have done a lot of work to design, develop 3D printed Ritot cases and to workout through existing technology to be sure we can develop Ritot.
Watch size:
Ritot includes:
Technology
These are the first components with which we have started the first stage of development:
MMA1270D – the sensor – accelerometer, defines the position of the product concerning a vector of force of gravity. It is intended for automatic service functions connected to hand movement (automatic switching on/off the projection, for example, in case of putting up hand in the position of viewing time, etc.).
TMS320DM365 – processor intended for control of device and the periphery. This processor is specialized under image processing, it is optimum for image processing connected with formation and processing of video and images.
DLPC300 –controller of the DLP matrix in the projector, performs specific functions for the control of the matrix mirrors and the LEDs that form the image pixels.
CB00243099 –Bluetooth controller, controls the transducer (that built-in the controller), maintains the Bluetooth protocols and operates the processor according to the standard protocols.
CN3083 – battery charge controller, determines the input voltage and stabilizes the charge, controls charge capacity, prevents abnormal modes.
DLP3000 – WVGA Digital Micromirror Device is a digitally controlled MOEMS (micro-opto-electromechanical system) spatial light modulator (SLM). When coupled to an appropriate optical system, the DLP3000 is used to modulate the amplitude and direction of incoming light.The DLP3000 creates light patterns with speed, precision, and efficiency.
The expected capacity of the battery will be about 1500mAh. More detailed info about the battery will be provided soon.
Luminous flux is enough for such picture size on such close distance to be visible at daytime. The most visible colors under the strong sunlight are red and blue.
In the result of the mirror and digital distortion  we receive a smooth projection. Alternative way is to correct it by optics. It is real to make the digital setting profile for projection on your hand. You will see it in vide with our prototype.
All required components are booked and will arrive soon to start assembling of our prototype. We plan to show the video of the first working prototype as soon as possible. Also we will post updates with more technical information during the campaign.
Note: some components may change(and most likely they will) after testing of our prototype. You will be informed with every step of developing.
We are sorry for possible mistakes in translation of technical terms. We wanted to show you technical information of Ritot as fast as possible. Thank you for understanding.
The uniqueness of the technology lies in pico projector; it allows projecting a dial with high quality graphics and brightness. The watch doesn't have any buttons, except of one touch sensitive button, with what you can manipulate the projection – run a mechanism of temporary (10 sec) or permanent projection.
Currently we don't have a fully working prototype, the photos in campaign are computer renderings of what we envision the device to look like.
The watch is set up and charged on a specially developed base that comes with the watch.
This base allows you to:
•  Change the projection color in one click. There are more than 20 colors available.
•  Charge the watch using wireless technology.
•  Choose 24 or 12 hour time display mode.
•  Change the position of projection for your left and right hand.
•  In addition, the base is equipped with an alarm clock.
We want to take a moment to tell you the story behind Ritot
Currently Ritot is based in Ukraine with a US San Francisco office. The company was founded by Michael Medvid. The idea of Ritot Watch came to Michael 6 months ago. After a lot of work with designing together with Andrew the idea became a beautiful concept. With support of Oleg the technology was tested and passed a lot of consultations with different developers and manufacturers to make sure that we can bring this concept into a real working product. Since we understood that people like Ritot Watch, we have moved to the next stage of development.
Estimate development time
We need your help to develop Ritot and start mass production. Then Ritot will come to reality. You'll be the first to receive Ritot at a price significantly less than future retail price. We hope that you like the Ritot and will be happy to answer your questions and suggestions.
    Prototypes: Currently we don't have a fully working prototype, the photos in campaign are computer renderings of what we envision the device to look like. Our watches are based on a new projection technology that has proven itself. Our task is to bring our model the closest to the technical ideal. We will do our best to achieve this. You will be able to monitor and even control all production stages and give your suggestions to the first working prototypes.
    Production:  We use advanced technology of high quality that has already been tested and developed by many other companies. The whole production process is monitored at the highest level by well-known professionals in their field.
    Delivery time: We understand the whole seriousness of our work, and we understand that our terms of production and date of perk delivery may change. We will cover all stages of production, so you will be informed of the course of work and the date of delivery. Please support us and make these watches a reality. Thank you!
Warranty period of the watch: 1 year. In case of any problems, send your watch to us for repair or replacement. Note that we incur all shipping costs.
Upon successful completion of the campaign, follow the updates section on this page and on our website. In addition, we will contact you to clarify all issues, including delivery, model and size of the watch after the campaign. In the future, we plan to assess the functionality of our website and add personal accounts so you can easily edit your delivery.
FAQ
1. What if the size of watches does not fit my hand?
You can send us the watch back and we will change it for another size for free.
2. If I order more that 1 Ritot Watch, how many base chargers will I receive?
Each Ritot Watch includes base charger. So if you ordered 3 Ritot Watches, you will get 3 base chargers.
3. Does Ritot work with my phone?
We are planning to work with a lot of phones. Currently we can say that Ritot will work with iOS, Android and Windows Phone. Also we are working on compatibility with other platforms.
4. How can I choose model, size and color of my watch?


We will send out a survey after the end of campaign.
Thank you!
We would like to thank every backer for any contribution and any assistance in the realization of our project. Please share our project thgrough Facebook and Twitter, we will be happy for any help!
If you have any questions or you just want to say hello, be sure to contact us at info@ritot.com
For Press Inquiries contact press@ritot.com