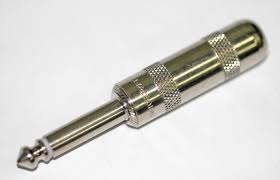 Phone connectors are the most popular among the connectors and they are the oldest connector design still in use since its invention in 1870s. They are designed for low frequency analog signals especially foe audio signals. They are also known as audio jack, phone jack, phone plug and jack plug. They come in male and female pair connector and the male pin is commonly called jack plug and the female pin is called jack socket.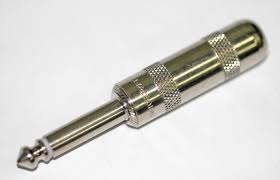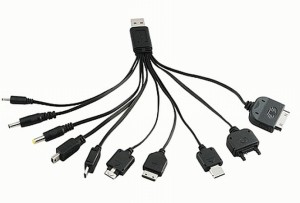 The image of phone connector male and female
The connector is cylindrical in shape with two, three or four contacts. These connectors are usually found in three standard sizes 1?4 in (6.35 mm), 1?8 (3.5 mm) and 3?32 (2.5 mm). The phone connectors in three different sizes are shown in the following image.
Phone connector in three different sizes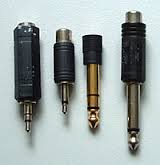 The phone connectors have different number of contact and each of them is used for slightly different applications. The phone connector with three contacts is known as TRS phone connector. The 'T' stands for the Tip contact, 'R' stands for the Ring contact and the 'S' stands for Sleeve contact. The phone connector with an additional ring contact is similarly called TRRS phone connector. The phone connector with only two contacts is used for unbalanced mono devices and the phone connector with three contacts is used for balanced mono or stereo devices.