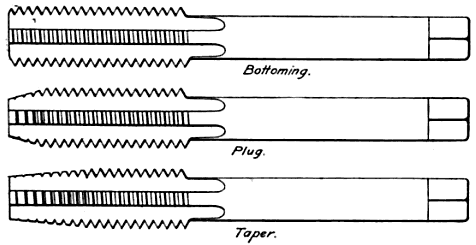 MECHANICAL TAPS TOOL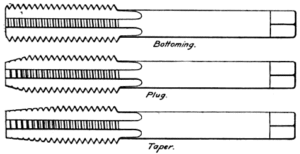 Taps are used for cutting or producing internal threads of either left or right hand kind in nuts or pre-drilled holes. Taps are threaded externally. The threads being cut by grinding to give a high class finish. Taps are made up of alloy steel or hardened steel. To provide cutting edges, grooves known as flutes are ground along the threaded portion of the tap so that the thread is divided into rows of teeth. The number of flutes on tap varies from two to eight whereas four being the most common. The flutes acts as channels to carry away the chips formed during tapping or cutting threads. The nomenclature of a typical tap is shown in Fig. Taps are may be of many types such as hand taps, machine taps, pipe taps, solid taps, straight and bend shank taps.
Hand taps are usually made in sets of three:
(1) taper tap
(2) plug tap
(3) bottoming tap
The taper tap is tapered off for 8 or 10 threads, and is used first, cutting to the full thread gradually. The intermediate tap usually has two or three threads chamfered. The second tap can finish a through hole. The plug tap has a full-sized un-tapered thread to the end and is the main finishing tap. In the case of blind hole, a plug tap must be used. Source A Textbook of Basic Manufacturing Processes and Workshop Technology by Rajender Singh.