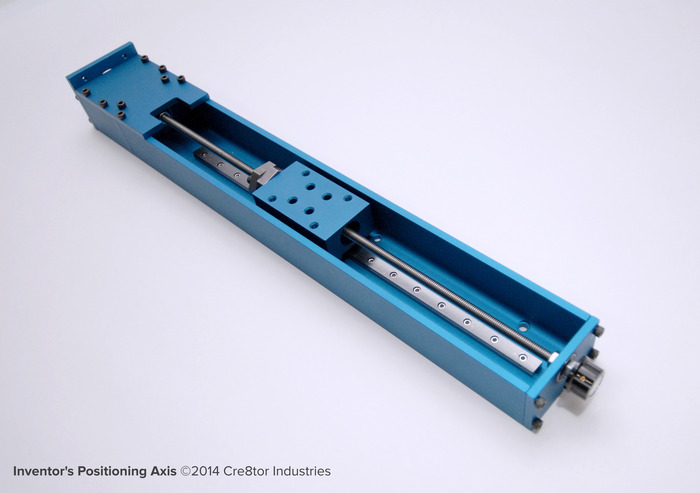 Inventor's Positioning Axis (8 micron linear accuracy)
by Michele and Jim Gray
Optimized for product development, this is a 13″ or 21″ linear rail guided positioning axis with only 2.5 microns backlash.
Life is made up of pieces of time. For inventors, time is of the essence. Spend your time creating the fun parts, we've taken care of the first step.
We've created the essential building block. Our axis is the critical element to allow inventors to put together a fully functional 3D development kit for about $1000, still having the accuracy normally found in more expensive commercial solutions.
What is it?
We've created a precise positioning axis with flexible mounting options, in both 13" and 21" travel lengths.  Our prototype tests at 8 micron accuracy and 2.5 micron backlash. UPDATE: A double puck and idler system are now also available to increase accuracy for some applications.
The axis modules can be combined for 1D, 2D, or 3D applications.
What can they be used for?
Product development, inventions, or prototyping in 1D, 2D or 3D applications. Anytime you need something moved with exceptional accuracy, this is your tool to do it! For example: 3D printers (both Delta and Cartesian), routers, 6-legged walking robots, printed circuit board cutting machines, coordinate digitizing machines, etc. You can assemble multiple axis units together to have the capability to work along the X,Y, and Z axis.
Why did we invent this?
When we were building our CeramiCast 3D printer, we were disappointed in our options to purchase a pre-made linear axis. There are a few tools available, but the existing tools only fit big business budgets. We decided to construct our own, using the resources available in our pattern shop, and created the product that we had been looking for at an affordable price.
How does it work in a 3D printer configuration, for example?
The axis rails can be organized to match the configuration of your custom project. Bolt a 3D print head onto the sliding platform, and then use one of many free 3D printer programs to operate the unit!