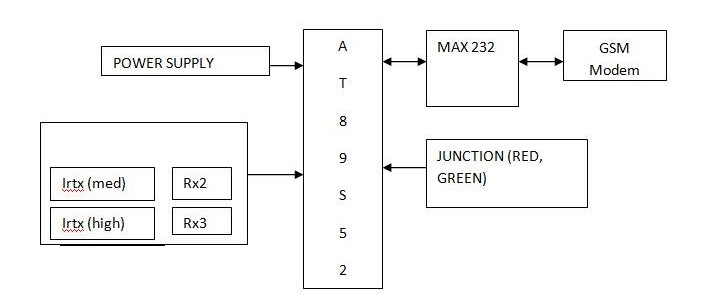 INTRODUCTION:
Many traffic light systems operate on a timing mechanism that changes the lights after a given interval. An intelligent traffic light system senses the presence or absence of vehicles and reacts accordingly. The idea behind intelligent traffic systems is that drivers will not spend unnecessary time waiting for the traffic lights to change. Since the waiting time of the vehicles for the lights to change is optimal, the emission of carbon monoxide from the vehicles is reduced. This will give a positive effect to the green house effect towards the environment. The system developed is able to sense the presence or absence of vehicles within certain range by setting the appropriate duration for the traffic signals to react accordingly. The system can help to solve the problem of traffic congestion.
The main aim in designing and developing of the Intelligent Traffic Signal system it consists of a computer that controls the selection and timing of traffic movements in accordance to the varying demands of traffic signal as registered to the controller unit by sensors (IR). The second part is the signal visualization or in simple words is signal face. Signal faces comprise of solid red, yellow, and green lights. The third part is the detector or sensor. The sensor or detector is a device to indicate the presence of vehicles.
RF BASED Ambulance alert system which civilian drivers elect to stay off the road in which the 3 signals automatically falls red and green to ambulance by sending signal from ambulance to traffic light sensor system.
BLOCK DIAGRAM:

HARDWARE COMPONENTS:
89S52 MICROCONTROLLER
555 TIMER
TSOP1738 IR RECEIVER.
IR LED.
POWER SUPPLY.
RF MODULES
SOFTWARE:
EMBEDDED 'KEIL C' LANGUAGE
MICRO FLASH\FLASH MAGIC