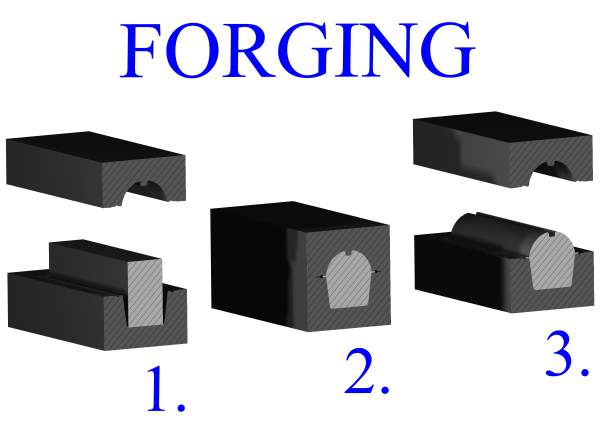 EFFECT OF FORGING ON METAL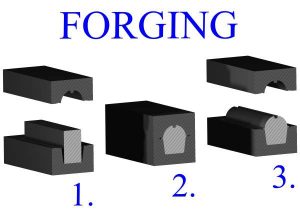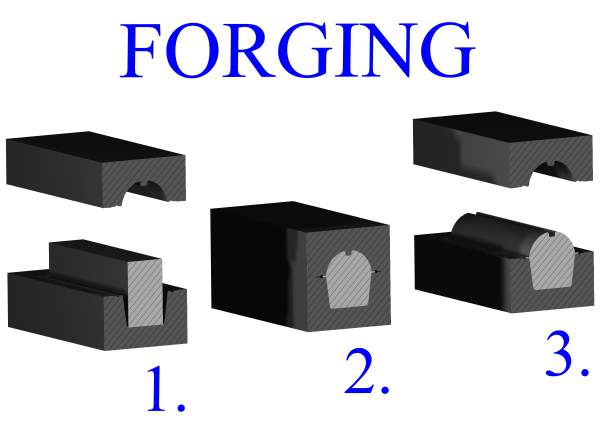 Generally a forging material is selected based on certain desirable mechanical properties inherent in the composition and/or for those which can be developed by forging. Such properties may be one or several, such as strength, resistance to fatigue, shock or bending, good machining characteristics, durability etc. A continuous and uninterrupted grain flow in a forged component results in higher strength and toughness. In a cast part, there is no grain flow. Cast part is having random orientation of grains so it has weak crystalline structure. In a rolled or machined component, an interrupted grain flow exists. Rolled component is having better ductility in a direction parallel to that of the plastic elongation because of orientation effect of grains. When a component is machined, machining interrupts the continuity of grain flow. In forged parts, the fiber like flow lines of the component are continuous. Forging leads to a re-arrangement of fibers because working is done above recrystallisation temperature.
The original crystals are deformed during forging operation and many of the constituents are precipitated at high temperatures which again become soluble in the solid iron on freezing, thus increasing the local homogeneity of the metal. The properties, like elastic limit, tensile strength of metal are unproved due to the grain flow. If a forged gear blank piece is cut in a plane aligned with the direction and surface is ground smooth and along teeth of the gear blank and immersed in an acid solution, the exposed metal will appear to the naked eye to have a fibre like structure as shown in Fig.
Forging is generally employed for those components which require high strength and resistance to shock or vibrations. It provides fine crystalline structure to the metal, improves physical properties, closes all voids and forms the metal to shapes. It enhances the mechanical properties of metals and improves the grain flow which in turn increases the strength and toughness of the forged component.
But there may be certain defects also, like scale inclusions on the surface, misalignment of the dies, crack, etc. These defects can be controlled. The advantages of forging processes are that, although the metal piece has to be heated to the correct forging temperature before shaping, less metal will be used than if the shape were machined from a solid block of metal.
All forgings are covered with scale and hence they require cleaning operation. It is done bypickling in acid, shot peening or tumbling depending upon the size and composition of the forgings. If some distortion has occurred in forging, a sizing or straightening operation may be required. Controlled cooling is usually provided for large forgings. Heat treatment may also be required to provide certain physical properties. However some common characteristics of forged parts are given as under.
(i) Forged parts have directional properties and hence have good strength.
(ii) Mechanical properties of materials such as percentage elongation, resistance to stock and vibrations are improved.
(iii) Forging process confines the structure of metal by closing up the cavities.
(iv) Cracks and blow-holes are minimized in forged parts.
Source Introduction of a Basic Manufacturing Processes and Workshop Technology by Rajender Singh.