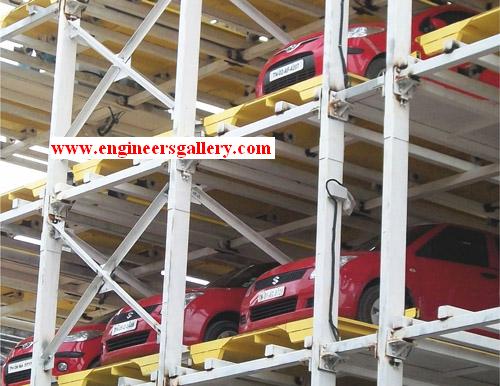 The growing population of India has created many problems one of the challenging ones being car parking which we confront almost every day. Besides the problem of space for cars moving on the road, greater is the problem of space for a parked vehicle considering that private vehicles remain parked for most of their time. While residential projects still escape with designated parking, the real problem lie with commercial spaces many a time which is overcome by taking extra open spaces to park.
Multi-level Parking systems for sometime have provided relief since they come with a number of advantages – optimal utilisation of space, lower maintenance and operational cost, lower construction cost, secure and environment-friendly nature, comfortable for the drivers, cost saving for builders by saving height or depth. Multiple Level Car Parking Systems are much in vogue a method of automatically parking and retrieving cars that typically use a system of pallets and lifts and signalling devices for retrieval. They serve advantages like safety, saving of space, time and fuel space but also need to have an extra and a very detailed assessment of the parking required, space availability and traffic flow.
High mechanical strength

Simple and automated operations

Lower power consumption

High operational fluency
Automated Multilevel Car Parking Systems
Automated Car Parking Systems are much in vogue – a method of automatically parking and retrieving cars that typically use a system of pallets and lifts and signalling devices for retrieval. They serve advantages like safety, saving of space, time and fuel (since one does not have to drive around for locating space) but also need to have an extra and a very detailed assessment of the parking required, space availability and traffic flow. These can be further categorized into fully automatic or semi-automatic systems.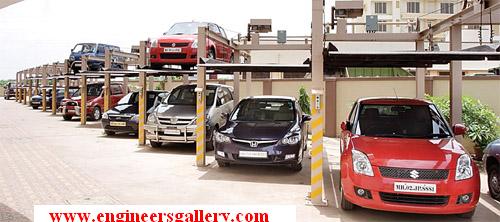 Horizontal Circulation Type Car Parking System
Operating on the principal of a conveyor, this system is used for parking cars in two to four levels in tight basements without any driveways. The cars are driven on to or off steel platforms at one entrance at ground level and parked cars circulate in the basement at different levels. At RR Parkon, the horizontal circulation system (upto 4 levels) is operated by a motor chain and the parking space required per car is one third of the parking space required in conventional manual parking.
Puzzle Car Parking Systems
Here the cars move vertically and horizontally like a puzzle, till the car required comes to the lower level where it is driven out. Installed in basements, rooftops, under stilts, open grounds, terraces, driveways etc the system is designed in the form of a matrix of rows and columns such as 2 x 2 or 2 x 3 etc in which out of the total number of available spots, a certain number of spots are kept vacant to enable horizontal and vertical movement of remaining spots. Available in the range of two to six levels, all the cars are independent of each other and the system can be installed in a phased manner.
The system has its disadvantages like Das adds, "Generally only 2 or 3 cars can be parked in the space for one therefore there is no space saving really. Since this system works on a one slot empty basis, hence to retrieve or park one car multiple cars have to be shifted, thus increasing the time taken. Due to the number of pallets (cars) that have to be moved for parking or retrieving a single car the number of moving parts increase and hence the operation and maintenance expenses increase. The system is also noisy."
Indraneel who has designed a lot of software parks, hotels, institutions has used Robotic Puzzle parking system, a fully automated system. About this system, he adds, "The entire super structure is like an automatic machine placing and retrieving cars. The user just has to drive in to the designated space, leave the car and collect a smartcard and on his way back scan it and retrieve his car."
At Dantal, the semi-automated Puzzle Parking System is a series of lateral and vertical movement of pallets which are self-supporting steel structures (with corrosion resistant paint) and operated through programmable logic Controls (PLC's). The advantages are easy and low cost installation, minimal operational cost, easy to drive-in and drive-out, multiple entry/exit & a time less than 180 seconds for parking/retrieving a car.
PARI has a specially designed PIT type Puzzle parking system.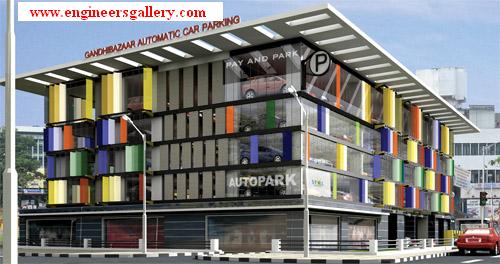 Tower Parking System
A fully automatic system, this involves an automatic storage system and a car elevator which moves vertically with the cars in upward and downward direction and a transfer device (a shuttle) for horizontal movement.
TAL Manufacturing Solutions Ltd has introduced state-of-the-art Fork type design tower parking system – the TAL Vertipark tower (with an impressive stand-alone steel structure) with an average retrieval time corresponding to 1min for 20 cars and 90 seconds for 40 cars. Dwelling on the advantages Das says, "The retrieval time is less, cost is reachable to a common man and environment-friendly since it occupies the space of only three cars on ground and can accommodate upto 40 cars. All the cars can be stored using access cards or password which reduces mischief and theft of cars." Other advantages include a shorter construction time; no costly concrete repairs / maintenance and lower liability insurance. The driving of vehicles at only one level make it preferable to be used in the automobile industry too. The entire system can be manually operated with individual controls. Parked vehicles can be retrieved during repair also which as Das points out is not the case with pallet systems in which parked vehicles can be manually retrieved only after the completion of the repair of the system.
PARI's Tower Square Type Parking System (designed with pallets or without pallets) preferable for 30 to 40 cars features a lift which is electromechanically operated. At the loading point, the lift receives the car and then travels to the respective location of the parking slot. Their Tower- Rotary Type Parking System preferable for 8 to 12 cars features a rotary mechanism that allows the system and all the cars to travel in rotary motion at the space of 2 cars.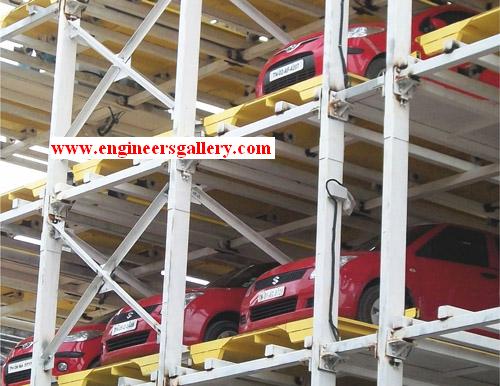 Cart Type Parking System
Preferably used in longitudinal parking areas, this fully automatic system available at PARI has multiple entry and exits and has a inbuilt mechanism called Cart which moves every parking floor. It can be designed with or without pallets and can be designed for 50 to 100 cars or even more.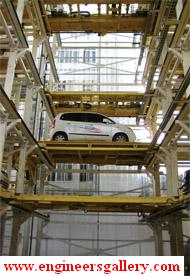 Stacker Type Parking System
Available at PARI, this fully automatic system features a typical storage system and has a unique mechanism called Stacker. It moves centrally and has parking slots on either sides. It has inbuilt robotic mechanism that pulls and pushes the car to and from the lift/parking bay. Preferably used in longitudinal parking areas, this can be designed for 100 to 300 cars or even more.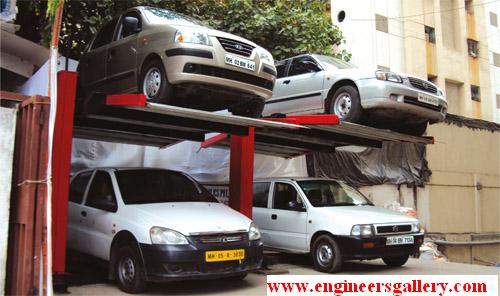 Pit Lifting Parking System
Available at RR Parkon, this system consists of three spaces – top, middle and bottom which are united and lifted together. While the middle and bottom spaces are underground in the pit, the top level is in the same line with the ground floor parking. Advantages include saving land area, low noise, easy maintenance and protection of the middle and bottom level from dust, rain and theft.