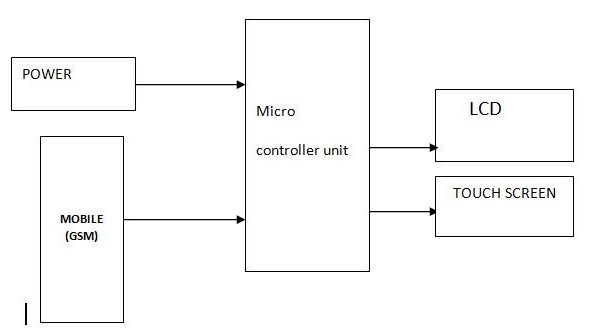 AIM:
The aim of this project is to make a call to others by using TOUCH SCREEN
PURPOSE:
The goal of the project is to develop a system, which uses touch screen to operate wireless.
DESCRIPTION:
Every system is automated in order to face new challenges in the present day situation. Automated systems have less manual operations, so that the flexibility, reliabilities are high and accurate. Hence every field prefers automated control systems. Especially in the field of electronics automated systems are doing better performance.
If you travel in parts of world, GSM is only type of cellular service available. Instead of analog services, GSM was developed as a digital system using TDMA technology.
This project is designed around a microcontroller which forms the control unit of the project when ever you touch the screen by using numbers and make a call to others by using GSM. Lcd is used to display the projects details
HARDWARE COMPONENTS:
MICRO CONTROLLER
POWER SUPPLY
GSM
TOUCH SCREEN
Software Tools:
Keil u-Vision
Embedded 'C'
Express PCB
Applications:
RESULT:
By this project we develop a system, to make a call to others by using TOUCH SCREEN