DEFECTS IN FORGED PARTS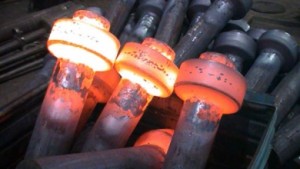 Defects commonly found in forged parts that have been subjected to plastic deformation are as follows.
(i) Defects resulting from the melting practice such as dirt, slag and blow holes.
(ii) Ingot defects such as pikes, cracks scabs, poor surface and segregation.
(iii) Defect due to faulty forging design.
(iv) Defects of mismatched forging because of improper placement of the metal in the die.
(v) Defects due to faulty design drop forging die.
(vi) Defects resulting from improper forging such as seams cracks laps. etc.
(vii) Defects resulting from improper heating and cooling of the forging part such as burnt metal and decarburized steel.
Some well identified common forging defects along with their reason are given as under.
1. Mismatched forging
Reasons
Due to non alignment of proper die halves.
2. Brunt and overheated metal
Reasons
This is caused by improper heating the metal at high temperature or for a long time.
3. Fibred flow lines discontinued
Reasons
This will occur because of very rapid plastic flow of metal.
4. Scale pits
Reason
These are formed by squeezing of scale into the metal surface during forging.
5. Oversize components
Reasons
Due to worn out dies, incorrect dies, misalignment of die halves. Copied from Introduction to Basic Manufacturing Processes and Workshop Technology by Rajender Singh.